It was early September and summer was still very much alive. I remember the relief I felt when we left Rotterdam. It really happened: the vacations had started. We were able to slip through the Corona and as we passed all the tolls heading south, I felt freer. We almost ruined our tires on the Belgian roads in bad condition and we ate "SNCF sandwich" in roadside restaurants, but it didn't matter. We had escaped the virus. Our final destination: France. The vacation country of my childhood. Here, I devoured croissants (real croissants) and toast with La Vache qui Rit. Later, I also learned to appreciate real French cuisine. Duck breast, rillettes, steak tartare, beef bourguignon: little Esmee was ready to taste everything. Looking back, I realize that I was already a seasoned carnivore at the age of ten. Today, vegetables play the main role.
As I grew up, so did my love of wine. And of course, I'm not talking about the piquette I drank during my studies, but about real wine. Wine "like an angel pissing on the tongue". That kind of wine.
I don't pretend to be a connoisseur (because I'm not), but I know what I like. I like full-bodied, round and powerful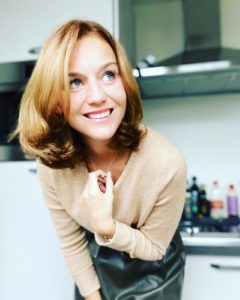 wine. A buttered Chardonnay for example, or a powerful and almost syrupy Amarone wine. What happiness! You will therefore not be surprised that during this vacation in France, we decided to stay in a place where all the pleasures of life come together: the wine estate of Calmel & Joseph. Laurent Calmel is an oenologist, Jérôme Joseph a sommelier. After having travelled all over the world, they bought an estate in Montirat, to make their own wines under the name of Calmel & Joseph, in collaboration with selected and mostly organic winegrowers.
We stayed for a few days on this winery in this late summer of this bizarre year. A beautiful place on a hill near Carcassonne, with a view of the Mediterranean landscape. On the 3rd day of our stay, it was high time to discover their wines! It's also ideal to taste them at the place where you are staying! Then you can really taste, and so we were served eight wines. We were guided by Sandy, the person in charge of the wine tourism at Calmel & Joseph. A very nice woman who spoke to us with a lot of love for the estate and the wines. From the first white wine, I was seduced. It was good, really good. I was totally captivated when I tasted the Villa Blanche Chardonnay.  So beautiful, so rich, so round. And at the same time, not too heavy.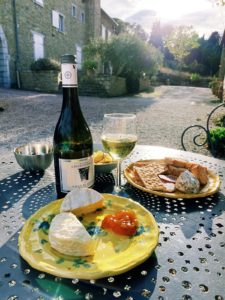 Butter, banana, vanilla, mango, I felt them all. When I read later that this chardonnay was among the ten best chardonnays in the world, I was not at all surprised. And I also understood that the three-star restaurant De Librije had recently put it on their wine list.
The red wines were all very nice. Deep red, almost purple colors and intense flavors such as cocoa, red fruits and black pepper. I was enchanted by this tasting and perhaps by the whole philosophy of this estate. Everything came together. The freedom, the flavors, the view of the olive groves: that was life. For a moment, far from COVID-19.  I was so enthusiastic that I wanted to share my experience with others when I came back.
Maybe it was even necessary for me to share it. And I usually did this by opening one of the wines of the estate with friends. And I still do. It's just an enrichment of your life that I pass on to others. I'm not a vinologist, I'm not a sommelier and I don't have a degree in wine. I like writing and drinking wine. Right now, happiness is in the little things like a good glass of wine. With your eyes closed, suddenly you get back the feeling of that pleasant breeze, the smell of cypresses and you can almost feel the warmth of the sun. And this is exactly what we need right now. Cheers!