Emilia Kloosvins-France Joins the Dom Brial Brotherhood: Centenary Celebration
On June 30th, Kloosvins-France  and its founder, Emilia Kloostra, experienced an exceptional moment: the centenary of the Dom Brial estate. At the heart of this celebration, Emilia was initiated into the Dom Brial Brotherhood, an event filled with emotion and pride for all wine enthusiasts.. 🍷✨
An Unforgettable Centenary Celebration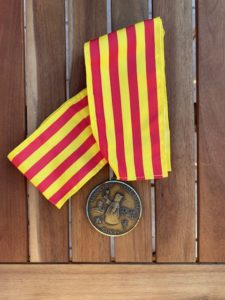 The celebration took place at Château Les Pins in Baixas, bringing together nearly 500 people to celebrate Dom Brial's 100 years. It was a vibrant tribute to the passion and dedication that have guided Dom Brial throughout its century-long journey.
To learn more about this celebration, you can read the article from L'Indépendant here
The Dom Brial Brotherhood: A Noble Mission
Emilia's initiation into the Dom Brial Brotherhood holds special significance. This brotherhood is committed to defending and promoting the great wines of Dom Brial and Château Les Pins. As a member, Emilia pledges to support these values and contribute to preserving the excellence of these estates.
Passion for Wine and Dom Brial's Heritage
Emilia shares a deep passion for wine and a quest for excellence that align perfectly with Dom Brial's heritage. This initiation marks a significant milestone for Kloosvins and reflects its dedication to the world of winemaking.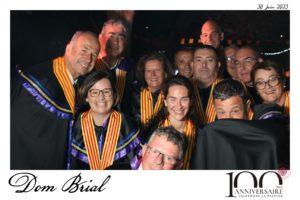 The Future of Kloosvins-France
As Kloosvins continues to evolve, Emilia's initiation into the Dom Brial Brotherhood is further evidence of Kloosvins' commitment to its customers. Our goal is to offer them quality wines while promoting the wine heritage of our region.
To learn more about Kloosvins-France and to contact us, visit our contact page here.
Cheers to a future filled with exceptional wines and unforgettable wine adventures! 🍷✨