Dom Brial :
Wine producing cooperatives, with their many members, do not always have the best name in the wine world. The award-winning cooperative Dom Brial in Baixas near Perpignan proves that things can be different. Dom Brial makes beautiful wines.
On this very hot day right after the lockdown in France, I visit the town of Baixas north of Perpignan. From the name of the town it is clear that the Catalan language is asserting itself in this region. Baixas has a very distinct terroir of schist, clay, limestone, pebbles and granite. And for these reasons the producers wanted their own appellation. The INAO did not provide that appellation, because Baixas would then be too similar to Rias Baixas. You know, the albarino appellation in northwestern Spain.
Because of the specific terroir of Baixas, a separate appellation is definitely expected in the future. The Dom Brial cooperative has been in Baixas since 1923 and has 247 members. The name Dom Brial was deliberately chosen. 100 years before the founding of the cooperative, this monk took the initiative to build a school in Baixas and in nearby Pia; he also donated money for its maintenance. In 1985 the cooperative decided to adopt the name Dom Brial as a tribute to this benefactor.
Shop
Marketing manager Laura Sicard tells this story in the store located opposite the vinification cellars. Normally this is a busy place, because in the Roussillon they like to drink their own regional wines. But in this post-lockdown period, things are quieter.
Fact & Figures
Dom Brial is a highly professional cooperative and since 1923 has been making beautiful wines both under IGP Côtes Catalanes and AOP Côtes de Rousillon, AOP Côtes de Roussillon Villages and the AOP Rivesaltes. Of the 247 members, 80 work full-time as grape growers. Some have only a few hectares and therefore have other occupations. In total they cultivate 2000 hectares on the 5 different terroirs of schist, clay, limestone, pebbles and granite. 30% of the production is bottled or Bag in Box and exported to 18 countries, the rest is sold as bulk wine. It is a large and green company with a professional organization. François Capdellayre is president and André Serret chief winemaker. Decanter gives the iconic wine Crest Petit, from an organically farmed single vineyard, above 90 points and the Berliner Wein Trophy named Dom Brial the best French cooperative in 2019 and 2020. Mundus Vini 2020 and Guide Hachette 2021 rated the latest vintage as outstanding. Mind you!
Single vineyards and sustainability
As mentioned, Dom Brial works as green as possible: the cooperative holds Agriculture Biologique, Sustainable Winegrowing Certified Quality and HVE3. This cooperative also owns an optical grape reader; only the best grapes make it to the press. This is an expensive machine tool, which you see mostly at the top wineries of the world.
Dom Brial also works a little differently than most cooperatives. The viticulture team makes a ranking of the vineyards every year and the best plots then end up with the best wines. 'Quite a job for the team to do that every year,' Mrs Sicard says.
'Supporting charities in the region, solar energy and being economical with water, 'you name it, Dom Brial does it.' A cooperative with a very social face.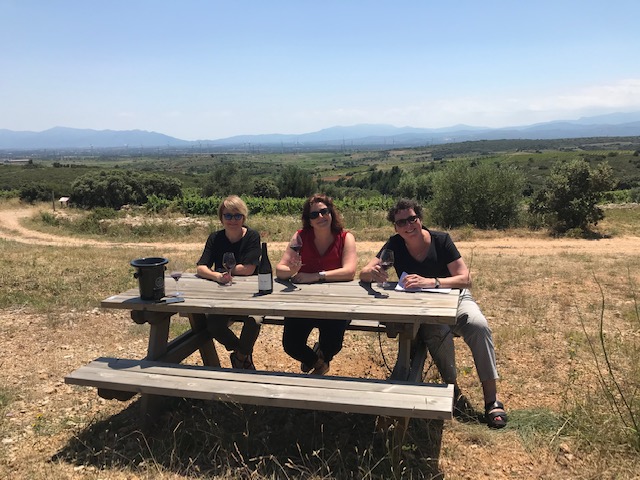 Chateau les Pins
Since 1990, Dom Brial has acquired Chateau les Pins. This winery is in the heart of Baixas and is built in Catalan style. The 28 hectares are in the vicinity of the winery. These are grenache dominated wines that rest for a long time in bottle before going on sale. The current year is 2014 and you can see that in the best Grand cru's from Bordeaux. These are high quality wines. Red, white and Rivesaltes.
Château les Pins was built in 1854 by the Duverney family. Joseph Duverney was the youngest of four brothers, who managed the land and supplied the king's armies in Europe at the end of Louis XIV's reign. It was during Louis XVI's reign, during the French Revolution, that Duverney went into exile to avoid this turbulent time. After his death in 1890, he left his winery to Municipality and this later to Dom Brial.
Alors
Dom Brial is a particularly good quality producer with exquisite wines. Seductive wines from a beautiful area in th e shadow of Perpignan. In the Netherlands they can be found online at Vinox and recently also at Henk Smit in Amsterdam. Emilia Kloostra of Kloosvins in Béziers discovered this gem. Dom Brial is a dynamic company, this cooperative deserves the best.
Charlotte van Zummeren
(Wine Journalist, vinoloog, gastronoom|sommelier)
Founder|editor www.winebusiness.nl
Redacteur van Winelife Magazine
 N 68 december 2020